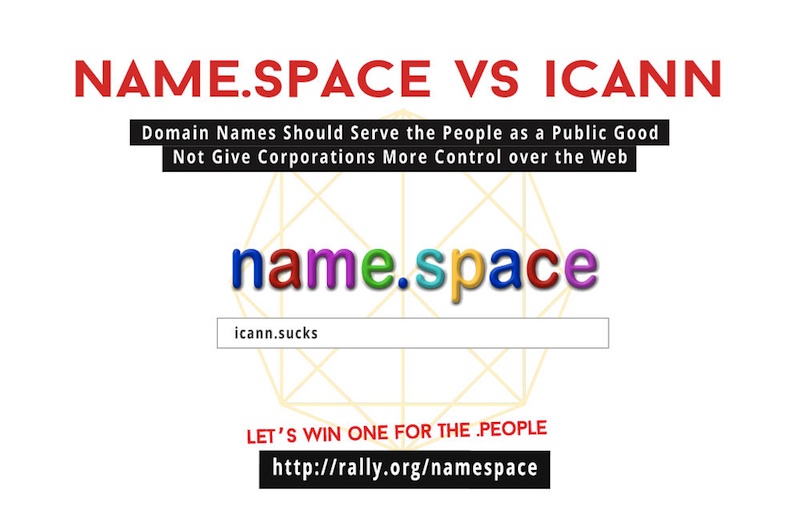 About Name.Space
Founded in 1996, Name.Space was created by Paul Garrin and an international team to address the growing demand for Internet Domain Names by creating Top Level Domains to supplement impending shortages under the limited set of .COM, .NET and .ORG. During this time in Internet history, many were spreading misinformation that large numbers of top-level domain names were either unfeasible or could cause harm and "break" the Internet, in order to maintain their market dominance and thwart competition from potential newcomers.
As an early proponent of a shared TLD registry system, Name.Space helped shape the adaptation of a wholesale-retail domain registration market. Name.Space was the first instance of a fully-automated self-service domain name registry. Before Name.Space, domain name registrations were sent to the monopoly registry via email for manual processing, which sometimes took weeks to issue and activate a domain name. Name.Space domains were registered and completely available within 2 minutes (November 1996).
Some of the early innovations to come out of project Name.Space include the first URL forwarding service for consumers (November 1996), "Smart Whois" (sWhois) the first domain and IP information meta search engine (sWhois queris and resolves "whois" listings for every known TLD), IP address block assignment, NIC handles, AS (autonomous system numbers) and second-level domain name lookup. Name.Space was the first to offer user-controlled DNS zone editor (predating services such as zoneedit.com and others) enabling consumers to manage and update their own domain name to IP address mapping and email (MX) routing.
The Name.Space v. Network Solutions, Inc. antitrust lawsuit (based on the successful MCI v. ATT that broke up the telephone company monopoly in the USA in 1983) gave momentum to the restructuring of the domain name registration market from a single monopoly-based system to a wholesale-retail one. The public benefit is lower domain registration costs. Before Name.Space v. Network Solutions a domain name registration cost $100; today a domain name can be registered for under $10.
Although Network Solutions violated the antitrust laws by refusing to add Name.Space TLDs to the root zone, the court granted Network Solutions immunity, casting Name.Space TLDs into limbo as they were unable to fully bring them to market. Professor Milton Mueller of Syracuse University wrote in his book, RULING THE ROOT (MIT Press), the following about Name.Space:
"Adding the Name.Space TLDs to the Network Solutions-operated root.zone would have transformed the commercial environment of the DNS. As the only established registry for hundreds of new top level domains, Name.Space would have quickly been elevated to the status of peer of Network Solutions"

(at the time of writing, 2002, NSI was valued at over half a billion dollars -- today, Verisign, who bought Network Solutions and operates the registry for .COM, .NET is worth over 5 billion dollars).
Name.Space pursued every option available to have its TLDs added to the DNS root zone, including participating in the U.S. Department of Commerce IFWP during the summer of 1998 and its year 2000 application to the Internet Corporation for Assigned Names and Numbers (ICANN). In the year 2000 TLD round, ICANN Chair Esther Dyson voted to accept Name.Space while other ICANN board members recused themselves from the vote as their own TLD applications were voted in by the other board members. ICANN absconded with Name.Space's $50,000 application fee leaving Name.Space's TLDs out of the root zone and its application containing 118 TLDs unresolved.
...the proposal of Name.Space appealed to me precisely because it was a mix of commerce and principle. If the company that wanted to offer .star and .jazz was prepared to subsidize .sucks, more power to it.

(--Esther Dyson, Former ICANN Chair; NYT Syndicate, SFgate.com)
Watch the video of the year 2000 ICANN review of Name.Space:
Name.Space has documented proof of continuous use in commerce of its TLDs since 1996 and continues to defend its marks against infringement while seeking the inclusion of its TLDs into the root zone through legal process.
Name.Space distinguishes itself from other TLD registries in that it acts as a social enterprise, dedicating a portion of the profits generated through the sale of domains under its Top-Level Domains to social investments including funding for public libraries, community broadband, digital literacy and education, and support for full tuition scholarships at the Cooper Union for the Advancement of Science and Art. When you sign up for a domain with Name.Space you are making a contribution to the public good, investing in the future, and taking a stand for liberty, justice and freedom on the Internet.